Details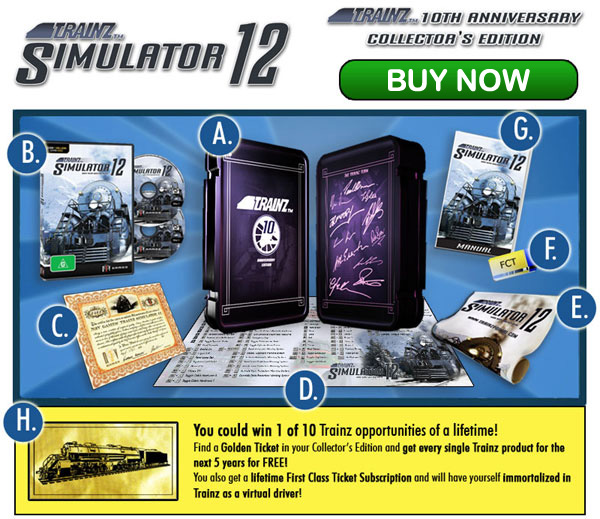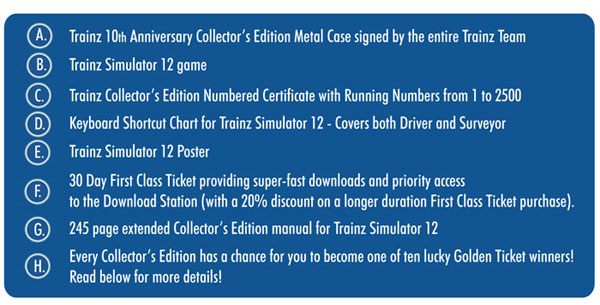 Beautifully Presented Collector's Edition Metal Case
This is truly a once in a lifetime opportunity to own a piece of Trainz history. Limited stock available - only 2500 printed!
All New Trainz Simulator 12 - Now with Multiplayer
The all new Trainz Simulator 12 (PC, DVD) featuring fresh locos, routes and online multiplayer!

10th Anniversary Collector's Edition Certificate
This classy certificate displays a running number and proves your lifelong dedication to the greatest Train Simulator ever made.
Keyboard Shortcut Chart
Get the brand new keyboard shortcut chart with all of the Trainz Simulator 12 controls mapped out for Driver and Surveyor. Never again will you have to rifle through pages of a manual to find the key you need!
10th Anniversary Collector's Poster
Beautiful and bold, this limited edition poster shows off the stunning Y6B loco that is the face of Trainz Simulator 12.
Super Speed Access to the Download Station
Every Collector's Edition includes a 30 day First Class Ticket subscription (as well as a 20% discount on a longer purchase).

Huge, expanded manual
Get all of the information you need in this expanded, detailed manual. Over 240 perfectly-bound pages for long life durability.
Ten Golden Ticket Chances!
Don't forget that there will be 10 Trainz Golden Tickets out there - and they can only be found in this special 10th Anniversary Collector's Edtion of Trainz.
Trainz Simulator 12 Overview


Build and Operate the Railroad of Your Dreams... With Your Friends!

Trainz Simulator 12 includes the most exciting new feature in the history of Trainz. You guys asked for it, and now we have delivered! Players from all over the world can build, play and operate railroads together in this new and exciting experience!


Main Features

Feel what it's like to put your hands on the controls of powerful locomotives as they power through towns, cities and rolling countryside.

Design and Build your own railroads with the versatile Surveyor editing tool and access hundreds of thousands of user-create assets from the Trainz Download Station.

Share your enthusiasm with other rail fans as your combine your efforts to operate a working rail line in the new Trainz Multiplayer.

Zoom all the way out to the altitude of a satellite to see more of your railroad

Many new realistic SpeedTree assets to use in your routes.

Backward compatible with TS2010 content.
New Routes
Balezino - Mosti

Debrecen - Nyiregyhaza

ECML Kings Cross - Newcastle

Mojave Sub Division

Municipal Transit Railway

Norfolk & Western - Appalachian Coal

Northeast Corridor - Wilmington To Philadelphia

Southern China

Play and Interact with other Trainz players from all over the world
Drive Steam, Diesel and Electric Trains (and even trams, boats and cars)
Operate a complete working rail line with interactive industries
Build and customize your own living railroad
Share your creations and your passion with other rail fans



Specification
Minimum Specification
OS:
Windows XP SP3
Memory:
1GB
Graphics:
nVidia GeForce 7200
Processor:
Pentium D 3.4GHz
Hard Drive:
16GB Free Space
Recomended Specification
OS:
Windows Vista
Memory:
1.5GB
Graphics:
nVidia GeForce 7200
Processor:
Pentium D 3.4GHz
Hard Drive:
16GB Free Space
Product Information
Developer:
N3V Games
Publisher:
N3V Games
Release Date:
1st November 2012
Minimum Specification
OS:
Windows XP SP3
Memory:
1GB
Graphics:
nVidia GeForce 7200
Processor:
Pentium D 3.4GHz
Hard Drive:
16GB Free Space